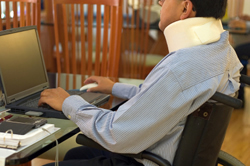 You weren't expecting someone to injure you. But suddenly, your plans, your bills, your family, your peace of mind…your whole life is disrupted due to someone else's negligence. In addition to any physical pain caused by the accident, you may also be facing large medical bills, lost wages, or lifelong ailments.
For the experienced representation you need in a personal injury case, call the Richmond personal injury attorneys of Collier & Collier, P.C. at 804-364-5200. We have a strong reputation for personal injury law in Richmond and the surrounding area, and we will make sure you receive the maximum amount of compensation possible.
Receive Full Legal Compensation for Present and Future Losses.
Generally, personal injury lawsuits are aimed at recovering clear-cut costs, like medical bills, missed work, funeral bills, etc. Other damages, like the cost of medical care for a lifelong disability, are more difficult to put a price on.
The Richmond personal injury attorneys at Collier & Collier, P.C. have the experience necessary to obtain full legal compensation for both present and future losses. Don't risk getting less than you deserve. Call us now at 804-364-5200.
Our Richmond Personal Injury Attorneys Consider More Than Physical Injuries.
Damages sought in a personal injury case may be physical, financial, emotional or cognitive. Personal injury cases include a wide range of subjects, from medical malpractice to slander. Many people only think of physical injuries when they hear "personal injury," but these cases may also include psychological impacts, like emotional distress, anxiety and depression.
The knowledgeable attorneys of Collier & Collier, P.C. can help determine the amount of money you should receive in your case, and will fight to make sure you get it. Let us help you deal with your legal issues, while you focus on recovery.
Contact Collier & Collier, P.C. for a Free Consultation.
Contact the law offices of Collier & Collier, P.C. at 1-804-364-5200 or toll free at 1-877-825-0543 for a free consultation to discuss your case.