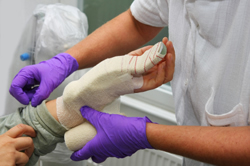 Dogs are often called "man's best friend," but when they bite, they can leave their victims with severe injuries and permanent scars.
If you've been bit, call the experienced Richmond dog bite attorneys of Collier & Collier, P.C. at 804-364-5200. We know what troubles may lay ahead, and can help you evaluate all expenses, ensuring you never settle for less than you deserve. We help clients in Richmond and the surrounding areas receive full compensation for their injuries.
Seek Full Compensation for Your Dog Bite Injury.
It's difficult to assess the full cost of such an injury. Victims of serious dog bites will have large medical bills immediately after seeking care, but other expenses, like cosmetic surgery to reduce scarring, may be faced much later.
Virginia allows those injured by dog bites to seek compensation from negligent owners, but the state's dog bite laws can be rather complicated, especially if the dog has no previous history of violent behavior. For this reason, it is very important to secure an experienced Richmond dog bite lawyer immediately. The dog bite attorneys at Collier & Collier, P.C. pursue all legal avenues in order to provide our clients with the results and compensation they deserve.
Our Richmond Dog Bite Lawyers Take Immediate Action to Gather Evidence.
The law firm of Collier & Collier, P.C. and our team of experts will carefully collect and evaluate the facts of your case. We will assess the defendant's actions leading up to the incident and do everything we can to ensure you receive the best compensation available for injuries.
Get the Compensation You Deserve. Call the Richmond Dog Bite Attorneys of Collier & Collier, P.C.
If you or a loved one has suffered injury from an animal attack, contact the law offices of Collier & Collier at 1-804-364-5200 or toll free at 1-877-825-0543 for a free consultation to discuss your case. Let us put our resources to work for you.