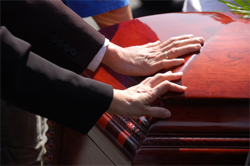 Someone else's negligence caused the death of your loved one, and your life was changed in an instant. You're overburdened with grief, financial responsibilities, concerning medical bills, funeral expenses and other obligations.
Leave the legal compensation to us. Call the Richmond wrongful death attorneys of Collier & Collier, P.C. at 804-364-5200. We help clients in Richmond and the surrounding areas receive full compensation.
Our Richmond Wrongful Death Attorneys Will Hold the Negligent Party Accountable.
We know that no amount of money will compensate you for your loss. Nonetheless, the Richmond wrongful death attorneys of Collier & Collier, P.C. will take on the major responsibility of assisting you and your family through this difficult time. With great commitment, we will prepare the strongest possible case against the negligent party.
Seek Full Compensation for Present and Future Losses.
Our wrongful death lawyers are compassionate and well-prepared for the job. Damages in a wrongful death case may include compensation for medical bills, loss of future income, loss of services, funeral expenses, mental anguish and, in some cases, punitive damages. We will make sure the insurance company or the jury understands the depth of your loss.
Call the Richmond Wrongful Death Attorneys of Collier & Collier, P.C.
Wrongful death cases are emotional, and it's important that you not make any major decisions while you are grieving. Consult the experienced lawyers of Collier & Collier, P.C. before entering any settlement or releasing any person or corporation from liability.
Contact the Richmond, Virginia law offices of Collier & Collier, P.C. at 1-804-364-5200 or toll free at 1-877-825-0543 for a free consultation to discuss your case. Let us put our resources to work for you.