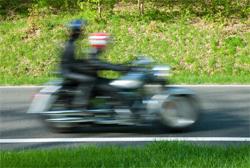 Motorcycle accidents usually cause very serious injuries for their drivers. Common injuries include broken bones, head injuries, severe skin abrasions, internal bleeding and spinal cord injuries.
A complete investigation of a motorcycle accident is often very complicated and requires the expertise of a Richmond motorcycle accident attorney. If you have been in a motorcycle accident, call the attorneys of Collier & Collier, P.C. at 804-364-5200. We help clients in Richmond and the surrounding areas receive full compensation for their injuries.
Our Richmond Motorcycle Accident Lawyers Take Immediate Action to Gather Evidence.
Our Richmond motorcycle accident attorneys and their team of experts will take immediate action to establish driver fault, which may be attributed to such errors as tailgating, failure to check blind spots or misjudging speed. Our experts will also assess road conditions for problems with highway design, road signs and traffic signals. Furthermore, we will inspect your bike and safety gear, making sure manufacturers met Federal Motor Vehicle Safety Standards.
We Consider Several Sources for Recovery and All Possible Compensation.
There are several possible sources for recovery in a motorcycle accident case, including drivers, vehicle owners, employers of drivers, governmental entities responsible for roads, and manufacturers of bikes and safety gear. The Richmond motorcycle accident attorneys of Collier & Collier, P.C. have the experience needed to analyze every possible party at fault and win the full amount of recovery to which you are entitled.
We will work to make sure no fault is attributed to you, the motorcyclist. You deserve full compensation. Even partial blame can significantly lower the damages you receive for your motorcycle accident injuries.
We Have the Experience Necessary to Obtain Full Compensation for Your Motorcycle Accident Injuries.
Damages may include medical bills, pain and suffering and wages lost. Future expenses related to the incident will be accounted for as well. And in rare cases, punitive damages may be awarded to punish the driver at fault.
Get the Compensation You Deserve. Call the Motorcycle Accident Attorneys at Collier & Collier, P.C.
If you've been hurt in a motorcycle accident, contact the law offices of Collier & Collier right away at 1-804-364-5200 or toll free at 1-877-825-0543 for a free consultation to discuss your case. Let us put our resources to work for you.