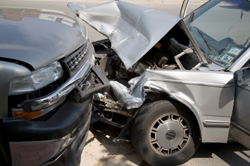 Most people do not contact a car accident lawyer if they unfortunately have been an injury victim of a motor vehicle accident. More importantly many people do not believe they need a car accident lawyer because they have accident coverage through their own car insurance. The truth of the matter is anytime you are injured in a car accident caused by someone else you have the right to receive legal representation to help recover fair compensation for lost wages, pain and suffering, medical bills and more.
Common Car Accident Misconceptions
If you have car insurance the insurance company will handle everything and get you the best possible outcome – Insurance companies always act in their best interests, not yours. Yes, you may receive a check for an amount that you believe is fair, but in reality "fair" is subjective and having a professional that has experience dealing with auto insurance companies is the only way to ensure you get the "most" you are able to receive for your particular case.
With all your current financial obligations in life (rent/mortgage, gas, insurance, childcare, groceries etc.) you are not able to afford a car accident lawyer – Collier & Collier, your Richmond Virginia car accident lawyers, work on a contingency fee basis. This means that you only pay fees based on your settlement. Please keep in mind that once you contact Collier & Collier our best interest is directly aligned with your best interests. When thinking about the costs of hiring a car accident lawyer like Collier & Collier the costs of not using an attorney can outweigh the costs of using one, especially when you consider the settlement amount that could exceed what the auto insurance companies are willing to pay.
It's not worth the time of going to court and dealing with all of the paperwork and phone calls – Here at Collier & Collier we want to make sure we get you the highest possible settlement amount from the auto insurance companies while causing the least amount of impact in your daily life. This means we will attend court on your behalf when necessary. Also, if you are left high and dry by the auto insurance company in regards to repairs on your vehicle or rental coverage, our car accident lawyers help with that. Click here for a free consultation.
You can hire a car accident lawyer later if need be – Many people think that if they are unhappy with the outcome of their case with the insurance company, they can then go to a car accident lawyer and find resolution there. Please keep in mind the goal of the insurance company is to process your claim as quickly as possible by offering an amount that we find inadequate. The insurance company does not want you to know that you can hire a car accident lawyer to negotiate the settlement. The fact of the matter is the sooner you contact us after the car accident the stronger your case and more leverage we have.
The insurance company is going to make sure I get the best possible outcome – When you watch auto insurance commercials everyone is smiling and everyone seems happy, especially the people who filed the claim. When you submit your claim, the representatives may seem overly nice and try to handle your claim as fast as possible so you do not negotiate the outcome. In reality insurance is a business. Auto insurance companies collect money from their insureds and the difference between their collected monthly premiums and the claims they pay out is profit. With this knowledge, how can you blindly trust them to give you the maximum settlement amount without legal representation? Click here for a few highlights of settlements we received not only for car accident related cases but other cases as well.
Types of Car Accident Cases we Handle
There are many types of car accidents that we have successfully handled in the past including but not limited to:
Drunk driving
Texting while driving
Hit-and-run
Failed vehicle systems
Pedestrian related car accident
Rush hour fender-benders
Running red lights
Failure to yield
Much more!
What to do if you get in a car accident
In order to ensure your safety and the make sure you have all the information we need to handle your case we recommend taking the following steps:
Call the police – In our experience the police report is vital in properly handling your case with the insurance company. A lot of the pertinent information we need for your case will come from the police report including details of how the car accident occurred, whether a ticket was issued to the other driver or not, the insurance information for the other driver, etc.
Get the medical attention you need.

Take Pictures & Document – Now days virtually everyone has a cell phone with camera functionality. Taking pictures of the accident, surrounding area, other vehicles/people involved will only help your case in the long run. Also, writing down the contact information of any witnesses and people involved including license plate numbers, insurance companies and driver's license numbers is essential to our office obtaining a complete understanding of the accident.
Contact Collier & Collier, Your Richmond Virginia Car Accident Lawyers – Be sure to contact our office in order for us to handle your case and contact the insurance company on your behalf. Contacting your car accident lawyer prior to filing your claim goes against what you see in the insurance commercials, but this is the approach you need to take. Having professional legal representation during your claim is crucial to achieving the best possible result.