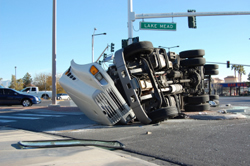 When the average 3,600-pound automobile suddenly meets an 18-wheeler weighing as much as 80,000 pounds and traveling at a speed of 60 miles per hour, enormous damage and injury are inevitable. Due to their enormous size and weight, semi trucks can cause dangerous accidents, resulting in catastrophic injuries or fatalities.
If you've been involved in an accident with a tractor trailer, call the experienced Richmond tractor trailer accident lawyers of Collier & Collier, P.C. at 804-364-5200. We help clients in Richmond and beyond receive full compensation for their injuries.
Tractor Trailer Companies Employ Big Insurance Companies. Get Help Now.
Large truck accidents cause significant damage and often cost trucking companies a lot of money. For this reason, they employ big insurance companies who will begin investigating immediately in order to minimize their costs and pay you as little as possible. That's why it's important to call the tractor trailer accident attorneys of Collier & Collier, P.C. right away.
Our Tractor Trailer Accident Attorneys Have the Proper Resources to Act Quickly.
Truck accident cases are complex, and determining fault requires fast action and proper resources. Many factors must be assessed to determine all responsible parties. Drivers may be contracted to a company, vehicles are often leased, and it's often difficult to tell who is responsible.
Furthermore, important evidence may be difficult to decipher after the accident has occurred. As soon as you contact the tractor trailer accident attorneys at Collier & Collier, P.C., our investigators can quickly go to the scene of your accident and begin research immediately. We also know what to look for in the truck's maintenance record, the trucking company's history, and the driver's background.
Get the compensation you deserve. Don't sign anything until you talk to the truck accident lawyers at Collier & Collier.
Contact us at 1-804-364-5200 or toll free at 1-877-825-0543 for a free consultation to discuss your case. Let us put our resources to work for you.