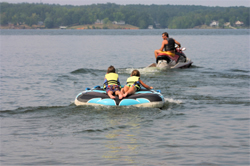 The busy waterways often become crowded and dangerous when the traffic of commercial vessels and leisure boats combine.
If you have been injured in a boating accident, call the Richmond boating accident lawyers of Collier & Collier, P.C. at 804-364-5200. We are familiar with the maritime laws and boating safety regulations of Virginia and the U.S. Coast Guard. We service clients in Richmond and beyond.
Any Injury on a Water Craft is Considered a Boating Accident.
Any injury that occurs on or with a boat, ship, ferry, wave runner, or jet ski is considered a boating accident. This includes slip and fall accidents, collisions with swimmers, and falls overboard.
Get Full Compensation for Your Boating Accident Injuries.
In the event of such injury, it is important to secure the experienced Richmond boat accident lawyers of Collier & Collier, P.C. as soon as possible. Our law firm will make sure you take the best step-by-step actions in an effort to get full compensation.
Don't settle with the fast-acting insurance company. They will work quickly to settle the claim before you have the chance to assess all areas of possible injury, both medically and financially
Contact the Richmond Boating Accident Lawyers of Collier & Collier.
If you've been hurt in a boating accident, contact the law offices of Collier & Collier right away at 1-804-364-5200 or toll free at 1-877-825-0543 to schedule a free consultation to discuss your case. Let us put our resources to work for you.