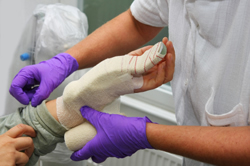 When the average 3,600-pound automobile suddenly meets an 18-wheeler weighing as much as 80,000 pounds and traveling at a speed of 60 miles per hour, enormous damage and injury are inevitable. Walking away from the accident can sometimes feel like a victory in itself, but it is important to keep several things in mind after you've been injured in a collision:
Treat every collision seriously:

If you're involved in a car accident (no matter how minor) be sure to call the police. Injuries can occur in collisions as slow as 15 mph, even "minor" fender-benders can result in neck and back pain that can last weeks or months. Consider filing an accident report with your local DMV. Car insurance companies rely heavily on police reports and DMV accident reports to determine the facts in an accident. Having more documentation goes a long way in helping you settle your personal injury claim.

See a doctor immediately:

Even if you think you are fine, you should call your doctor to discuss the accident and get medical advice. In many cases, you may not feel the effects of an injury for hours or days after the accident.

Keep notes and records:

Take down the contact info of other parties in the collision, make notes of all your expenses and time off work. This also includes journaling about lingering pain or emotional suffering after the accident. Everything you record may be helpful in determining your settlement.

Document all expenses:

Medical expenses, auto repair expenses, rental cars, medication expenses, parking fees, consultation fees, time and wages from loss of work, the cost of an auto accident is often more than just the cost of the vehicle and can add-up quickly. Keeping records as your expenses arise will give you and your attorney a clear picture of the extent to which you may be owed.
Call the Richmond car accident law firm of Collier & Collier at 804-364-5200. Our lawyers will take aggressive action to make sure you receive every penny you deserve. You may be entitled to compensation for medical costs, property damage, lost wages, cost of rehabilitation, permanent injuries, physical pain and emotional suffering.
Contact our law office as soon as possible after your accident. We will make sure important evidence is preserved and identify all possible sources of insurance coverage and compensation.