What is "wrongful death"?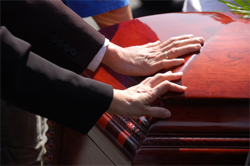 Wrongful death is a claim in common law jurisdictions against a person who can be held liable for a death. The claim is brought in a civil action, usually by close relatives, as enumerated by statute. The legal bases for a wrongful death claim are numerous, but all are rooted in theories of negligence. The Statute of Limitations (time limit to file a lawsuit) in Virginia in most situations for a wrongful death claim is two years. It is very important that someone considering pursuing a wrongful death claim consult an attorney experienced in that field as soon as possible, so a complete investigation and research into the case may be performed well before the limitations period approaches.
Why should you seek recourse for a wrongful death?
We know that no amount of money will compensate you for your loss. However compensation may aid in the burial process, or assist in settling a loved one's finances. For some people it may even help with the grieving process by attributing justice to the negligent party.
You are already overcome by grief. Don't allow yourself to be overcome by financial responsibilities, concerning medical bills, funeral expenses and other obligations as well.
What are the steps you should take?
Wrongful death cases are emotional, and it's important that you not make any major decisions while you are grieving. Consult the experienced lawyers of Collier & Collier, P.C. before entering any settlement or releasing any person or corporation from liability.
Contact the Richmond, Virginia law offices of Collier & Collier, P.C. at 1-804-364-5200 or toll free at 1-877-825-0543 for a free consultation to discuss your case. Let us put our resources to work for you.