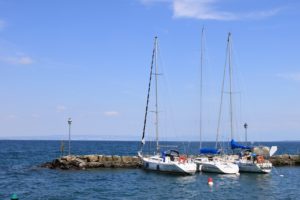 A boating accident is usually a frightening experience, and it can be difficult to know what to do or how to respond when one occurs. Knowing the steps to take after a boating accident could help you save someone's life, as well as helping you protect your legal rights.
In the immediate wake of a boating accident, it is important to quickly take stock of the situation and determine your next steps.
If the boat is still afloat and you are aboard, then the first thing to do is to determine whether you or anyone else needs medical attention.
If anyone has fallen overboard, then you should assist the victim back onto the boat when possible. If the vessel has broken apart or is sinking, then climbing on floating debris and signaling for help is advised. You should have a life jacket on or accessible at all times to help you to stay afloat in the event of a boating accident. The U.S. Coast Guard reports that 70% of boating accident fatalities result from drowning.
After you are confident that everyone is OK and out of danger, you will next need essential information from those on the other vessel as well as from any witnesses to the accident.
Information that you should gather at the accident scene includes, the:
Names, addresses and telephone numbers of the boat operators involved in the accident.
Names, addresses and telephone numbers of the passengers involved or aboard any of the vessels in the crash.
Names and contact information of any eyewitnesses who may have witnessed the accident from shore or from other vessels.
Registration or identification number of the other vessels involved in the accident.
Insurance company names and the insurance policy numbers of those who were involved in the accident.
It would also be helpful to take photographs of the damage to the boat, and the location where the accident occurred if there is any property damage or noticeable landmarks to help place the accident.
Generally, just as in a car accident, persons are at fault for a boating accident if they act negligently. Persons acts negligently if they fail to conduct themselves as a reasonable person under similar circumstances. A reasonable boater would typically adhere to all safety rules and precautions and be mindful of passengers and other boaters. As described above, that means following directions, observing signs, maintaining your boat, paying attention to the weather, and never piloting a boat while intoxicated.
It's simple to contact Collier & Collier, P.C.  Give us a call at 804-368-6368, or toll-free at 877-825-0543.  Best of all, it's easy to speak directly with real people in our office, not just a voicemail or automated system. Don't wait. If you've been injured, contact us today for a free, no-obligation review of your situation to see if we can be of help.  We're available 24-hours a day, seven days a week. If we can't help you, we'll put you in touch with someone who can.