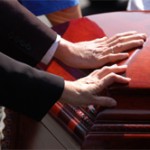 The death of a loved one is something that will never be easy to contend or deal with. And when a person dies or is killed due to the negligence or misconduct of another, including murder, the surviving members of the victim's family may sue for "wrongful death."
The elements of a wrongful death suit often stay the same even though the incidences that can lead to death and ultimately a trial vary drastically from medical malpractice to criminal behavior and more. Some things about a wrongful death case often stay the same including that a suit for wrongful death can only be initiated by the personal representative of the decedent's estate. Here are some other elements of a wrongful death case, they must involve:
The death of a human being;
Caused by another's negligence, or with intent to cause harm;
The survival of family members who are suffering monetary injury as a result of the death, and;
The appointment of a personal representative for the decedent's estate.
A wrongful death claim may be found in many differing circumstances, such as these situations:
Medical malpractice that results in decedent's death;
Automobile or airplane accident;
Occupational exposure to hazardous conditions or substances;
Criminal behavior;
Death during a supervised activity.
Someone else's negligence caused the death of your loved one, and your life was changed in an instant. You're overburdened with grief, financial responsibilities, concerning medical bills, funeral expenses, and other obligations.
Our wrongful death lawyers are compassionate and well-prepared for the job. Damages in a wrongful death case may include compensation for medical bills, loss of future income, loss of services, funeral expenses, mental anguish and, in some cases, punitive damages. We will make sure the insurance company or the jury understands the depth of your loss.
Leave the legal compensation to us. Call the Richmond wrongful death attorneys of Collier & Collier, P.C. at 804-368-6368. We help clients in Richmond and the surrounding areas receive full compensation.