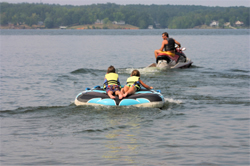 Starting July 1st 2016, there will be new additions in virginia to personal watercraft regulations. According to the Virginia Department of Game & Inland Fisheries, "All personal watercraft (PWC) operators age 14 and older and all motorboat operators of 10 hp or greater regardless of age need to take a boating safety course." Additionally "no one under the age of 14 may operate a PWC. Operators 14 and 15 years old must show proof of completing education."
VDGIF defines a personal watercraft as: "a motorboat less than 16 feet in length that are powered by jet pumps, not propellers, where the persons stand, kneel, or sit on, rather than inside the boat."
If you've already taken a boating safety course and are properly certified this isn't likely to affect you. However, if you are an experienced boater but have not taken the safety course, you may choose to take an equivalency/challenge exam rather than take a boating safety course.
Despite taking a safety course and obtaining proper licensing  it is still possible for accidents and injury to happen while on the water. It is important to note that any injury that occurs on or with a boat, ship, ferry, wave runner, or jet ski is considered a boating accident. This includes slip and fall accidents, collisions with swimmers, and falls overboard.
In the event of such injury, it is important to secure the experienced Richmond boat accident lawyers of Collier & Collier, P.C. as soon as possible. Our law firm will make sure you take the best step-by-step actions in an effort to get full compensation.