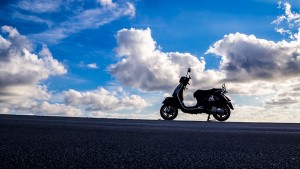 Mopeds are a popular commuter vehicle here in Richmond. Their low-profile size makes them easy to park, electric motors make them efficient and cheap to use, and they allow motorists to bypass several fees in the registration process. But what else does the DMV of Virginia have to say about mopeds?
Registration and License:
Mopeds are defined by the Virginia code as any vehicle with less than three wheels that displaces less than 50 cc's and has a seat that is less than 24 inches in height.
DMV will issue one license plate per moped to be placed on the rear of the vehicle. When titling a moped, you will be requested to complete a Moped Certification exam indicating how you intend to operate the vehicle. However, the DMV will not require/collect the following for mopeds:
Electric vehicle fee

Insurance

Odometer reading

Safety inspection

Sales and use tax (You will still have to pay retail sales tax if you purchase a moped in Virginia; however, mopeds are exempt from personal property tax)
It is important to note that if a moped is operated in excess of 35 mph, it is considered a motorcycle. You would be required to comply with all motorcycle vehicle registration, insurance and inspection requirements.
Safety Requirements:
Due to the lack of safety devices installed on mopeds, the DMV of Virginia requires several safety precautions while operating one.
Virginia law requires that every moped driver driving on Virginia roadways carry a government-issued photo ID (does not have to be a driver's license)

Every driver and passenger must wear a helmet while riding a moped. Drivers must also wear a face shield, safety glasses or goggles unless the moped has a windshield.

Operation of mopeds is prohibited on the interstate
Regarding DUI's:
While under most circumstances, a moped is not considered a "motor vehicle" it is noted in the law as one when specifically referring to DWI and DUI offenses. So you cannot drive a moped while under the influence of alcohol or other substances.
It is illegal to drive a moped if your license is suspended or revoked for convictions of DUI, underage consumption of alcohol, refusing a blood/breath test, or driving while suspended/revoked for a DUI-related offense

If your driving privilege is suspended or revoked due to a DUI-related conviction, you must be in full compliance with all requirements imposed by DMV and the court before operating a moped
If your license has been revoked or you have been involved in a Moped or motorcycle accident, contact the law offices of Collier & Collier right away at 1-804-364-5200 or toll free at 1-877-825-0543 for a free consultation to discuss your case. Let us put our resources to work for you.