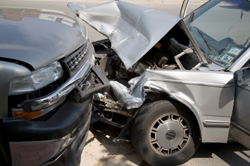 In the chaos following an car accident or other collision there is a lot to keep track of. We have created an easy step-by-step guide to follow in the immediate wake of a collision:
Stay at the scene of the accident, never leave until it's appropriate to do so. If you leave, particularly where someone has been injured or was killed, you could face jail time for being a hit-and-run driver.
Check on yourself and other passengers, asses for any injuries or pain. Once you are satisfied with your assessment in your vehicle, check on the other drivers and see if they have experience injuries.
Call the police. Tell them the extent of injuries at the scene, where the accident is, and how many cars are involved. Ask that a police report be filed when the officer arrives, and obtain the name and badge numbers of the responding officer.
Exchange information with other drivers. In as polite a manner as possible, get the names, numbers, addresses, drivers' license numbers, license plate numbers, and basic insurance information from all drivers involved. If there are passengers, also obtain their names, numbers, and addresses.
Don't admit guilt. Do not apologize at the scene, simply act in a professional manner. If you apologize for any injuries or damage you may be unintentionally admitting legal liability for what happened. But immediately after an accident, it might not be clear who was at fault or more at fault.
Take pictures of the scene. Make sure to document the damage to any vehicle and property as quickly as possible. Any "before" photos of your car may also be helpful for determining your compensation after the accident.
Inform your insurance company and follow the claims process.
Consider consulting an attorney if there were injuries in the accident.
After an automobile accident, you may require multiple surgeries, extensive rehabilitation or long-term care. Our Richmond car accident attorneys have worked on many cases similar to yours, and we are familiar with the future expenses you may incur. We will obtain full and fair compensation for your physical injuries and your past, present and future losses.
Contact the law offices of Collier & Collier, P.C. at 1-804-364-5200 for a free consultation to discuss your case. Let us put our resources to work for you.