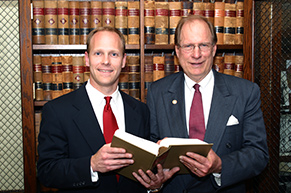 The Richmond personal injury lawyers of Collier & Collier, P.C. will take the right action to make sure you receive every penny you deserve. You may be entitled to compensation for medical costs, property damage, lost wages, cost of rehabilitation, permanent injuries, physical pain and emotional suffering.
We Have The Experience You Need.
We have experience in helping clients obtain satisfaction and appropriate awards.  Just a few recent examples include:
$1,125,000 for a medical malpractice victim's family (co-counsel)
$481,000 for a thoracic disc injury case
$395,000 for a woman who suffered a ruptured cervical disc when a police officer made an illegal U-turn into her vehicle
$290,000 for a man whose ankle was fractured by a delivery truck that backed into his leg
$2 million+ for a burn injury victim (amount includes lump sum and future annuity payouts)
$975,000 as co-counsel for a medical malpractice victim
$600,000 for an accident involving a reckless tractor trailer driver
$545,000 an auto accident case
$450,000 for a medical malpractice victim against a U.S. Government medical facility
$299,000 for a client injured on a ski slope
$280,000 for a pizza delivery lady who fell through a homeowner's rotten front porch board
$250,000 for a boating accident victim
$300,000 for a girl injured in a motorcycle accident
$300,000 for a man who had surgery on his thumb as a result of being rear ended by a tractor trailer
$125,000 for a gunshot victim against an apartment complex for negligently allowing a criminal on the property
$50,000 for a dog bite victim
$50,000 verdict for a road rage gunshot victim
$750,00.00 wrongful death award for the family of a veteran who was the victim of medical malpractice at a Veterans Affairs Hospital
Call the Personal Injury Attorneys of Collier & Collier, P.C.
If you are a victim and you believe you have a case, call the attorneys at Collier & Collier today at 804-364-5200 or toll free at 1-877-825-0543. Most initial consultations are free of charge or obligation.  Home and hospital visits are available.
SETTLEMENTS AND VERDICTS IN ALL CASES DEPEND ON VARIOUS FACTORS AND CIRCUMSTANCES WHICH ARE UNIQUE TO EACH CASE. THEREFORE, PAST RESULTS IN CASES ARE NOT A GUARANTEE OR PREDICTION OF SIMILAR RESULTS IN FUTURE CASES WHICH THE COLLIER AND COLLIER LAW FIRM AND ITS LAWYERS MAY UNDERTAKE.